Years ago, Kimball started a tradition of fishing on New Year's Day…no matter where she is. My own belief in this "superstition" that became a tradition was limited at first. It took several years before I accompanied her. However, after 50 years of fishing with this amazing lady, it works. She believes that fishing on New Year's Day and catching something portends another successful year of fishing fun.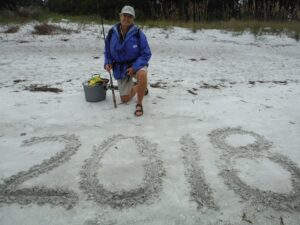 A few years ago, Kim traveled to Colorado for Christmas and I stayed home with our old dog. The weather there was as expected with lows in the mountains at -20⁰F and plenty of snow. Sure enough, on New Year's Day, she walked down to the Roaring Fork River in Carbondale, CO and there, standing in snow with an air temperature of -10⁰F she caught and released a bunch of big rainbow and brown trout while her fly line froze in the guides.
This year, with the weather forecast anything but inviting, we headed north to Sarasota Bay to avoid any red tide in the Manasota Key area and find shelter behind the trees on the north side of Big Pass. Ted Sperling Park, situated on the southern tip of Lido Key, not only features a fine kayak launch but also access to the channel at Big Pass. So, did we hunker down behind the trees and make a few casts? No. We noticed the surf, driven by a 20-mph wind, breaking across the beach to the west and decided to try and survive fishing there. The air temperature never got above 57⁰F, so with the wind chill factored in, it was quite chilly. But, the fish were there!
After trying jigs and shad tail plastics fished slowly along the bottom and fast on top, we put our live shrimp to use. By chin hooking and free lining them with the outgoing tide, using a split shot to help get them down and away from cruising seagulls, Kimball caught and released a couple of nice snook and kept a big sheepshead for dinner. This limited action helped her deal with the cold while I, a true Floridian shivering in the wind, went fishless except for one ladyfish. Kimball and I were the only anglers I saw catch anything all afternoon. A few cups of hot coffee for Kimball, a beer for me and a dozen raw oysters at Phillipe Creek Oyster Bar made a perfect end to the first day of this new year!
The sheepshead went on the grill for a variation of redfish on the half shell. I guess it could be called sheepshead in the whole shell. They're in the porgy family and have big bones. Fileting results in a lot of wasted meat and scaling a sheepshead is something best done anywhere but in a kitchen. So, as a lazy cook and a fan of grilled fish, I would say this experiment went well. First remove the innards and head then cut the skin like you would to filet it. Sprinkle a little Cajun spice on the inside then lay it on a medium grill for 30 minutes on each side. Unlike a redfish, as it cooks the scales will stand up like fuzz but will stay with the skin and lift off when done. The scales keep the fish from sticking to the grill. The skeleton then lifts cleanly from the meat resulting in a boneless sheepshead on the plate with no mess and minimal waste.  We enjoyed Kim's fish with grilled zucchini and a crab cake, drizzled with home grown calamondin lime juice. Try it, you'll like it.