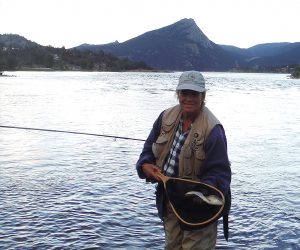 Winter is on the run back up to the high country where snow drifts and ice still keep anglers at bay. This time of year the open water is right in town. Try the two inlets to Lake Estes right now. Two inlets? Yes, the Big Thompson enters Lake Estes near the 9-hole golf course but our favorite when water is high and muddy is the power plant outflow into the lake.
The Big Thompson gets a lot of pressure below Lake Estes in the catch and release area upstream from Waltonia Road Bridge by Drake. Above the lake, the Big T flows through the 9-hole golf course. Here it flattens out later in the year to make for some great dry fly fishing. In the spring, the river can get high and muddy with the spring runoff.
The power plant outflow is warmer after traveling 13 miles under the continental divide from Grand Lake. The trip through the turbines aerates this water and makes it perfect for spawning rainbow trout in the spring. In the fall these same factors draw German brown trout to spawn here also.
We carry a lot of different flies and nymphs in our vests but a favorite the entire year is the "flying ant". Whether it is recognized as an ant or a housefly by the trout matters not at all, they eat it gladly. Try one before sunset, you'll like it.